Every year, hundreds of thousands of acres of melted snowfall finds its way into Lake Superior and on the way, creates quite the show. With this winter's heavy snowfall, a significant thaw cycle and predictions for above-average flooding indicate Cook County will have a spectacular waterfall season. Waterfall season typically lasts about three weeks and could begin as soon as mid-April.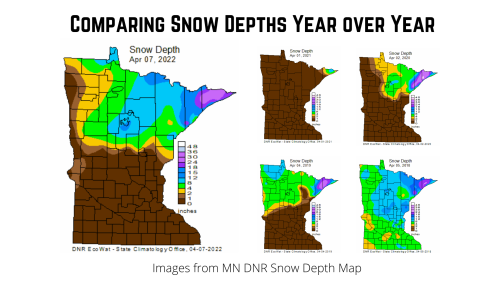 With so much snow, the late winter season in Cook County blends seamlessly into early spring. Lutsen Mountains still has a 36-48 inches of snow base and plans to stay open on weekends until May 1. Visitors can enjoy skiing and snowboarding one day and chase waterfalls the next.
A Hydrological Wonderland
Fire, lava, earthquakes and miles-thick glaciers left deep gouges in Cook County's landscape over a billion years ago. The remaining cracks and fissures became thousands of lakes and streams. When months of accumulated snow and ice melt each spring, those streams swell. The rapid influx of water creates countless pop-up waterfalls throughout Cook County. 
"When you look around Cook County, you're looking at a billion years of geological and hydrological work in the making," explained John Jereczek, Lake Superior Habitat Coordinator with the Minnesota Department of Natural Resources. "To be in Cook County is to stand upon the earth's crust. It is mind-boggling to think about the power and magnitude that created this unique landscape."
Chasing Waterfalls
From the Caribou River on the southernmost edge of Cook County to the Pigeon River along the Canadian Border and everywhere in-between, spectacular waterfalls transform calm rivers and streams into forces of nature. 
See our waterfall map for the area's top 15 waterfall viewing locations and details on likely areas for pop-up falls.
Most falls are accessible after a short hike, and an afternoon spent on the road will take waterfall chasers through some of Minnesota's most beautiful and wild country. 
From the smaller, pop-up falls all along Highway 61 to the North Shore's most dramatic drops, Cook County has the most diverse range of waterfalls in Minnesota. Some of the most impactful include Devil's Kettle Falls in Judge C.R. Magney State Park, the ephemeral "phantom falls" that pour from the cliffs lining Highway 61, and the High Falls of the Pigeon River in Grand Portage State Park.
Minnesota's Tallest Waterfall
Cross this one off your bucket list, and then return again and again. At 120 feet, High Falls is the highest waterfall in Minnesota and is located 36 miles north of Grand Marais at Grand Portage State Park. Thanks to a partnership between the Anishinaabe people of Grand Portage and the State of Minnesota, you can experience this geological gem that is easily accessible for waterfall enthusiasts of all ages and abilities.
An easy half-mile stroll on the barrier-free, handicapped-accessible boardwalk takes you to a spectacular viewing area with three platforms, one wheelchair accessible. Don't forget your camera.
Don't forget to check out what else Grand Portage has to offer while you're there. 
What to Expect in Cook County's Quiet Season
Spring visits to Cook County provide time to relax and enjoy time with family and friends. It's an opportunity to get out and explore nature before the busy summer season. Trails will have very little congestion, so visitors can take their time and enjoy every moment. 
Cook County's events calendar begins to fill out after a quieter winter season. Art festivals, galas, races, live music, and more. Check back often to see what's happening in Cook County this spring. 
Find spring lodging specials and other hot deals in Cook County here.
Waterfall Resources
For inspiration, trip planning assistance and more information on waterfalls in Cook County, Minnesota, check out these resources: