Dark Sky Season in Cook County
Northern Lights Viewing Routes - Find the best places to view the aurora borealis in Cook County MN
Posted by Visit Cook County MN on 11/12/17 11:00 AM
Catching a glimpse of the northern lights is at the top of many "bucket lists" but the number one question we hear is "where are the best places to view the northern lights in Minnesota?" With the help of local photographer, Bryan Hansel, we have created a comprehensive list of some of the best places to view the northern lights in Cook County, MN.  
Please note: These maps are intended for reference only. Please pick up an official road map for offline navigation. Locations identified can be done individually or as a driving route. Not all roadways accessible year-round or maintained regularly. Proceed with caution during winter months and observe all road signs or closures. Visit Cook County is not responsible for lost or stranded drivers.  Safety is at the discretion of the driver.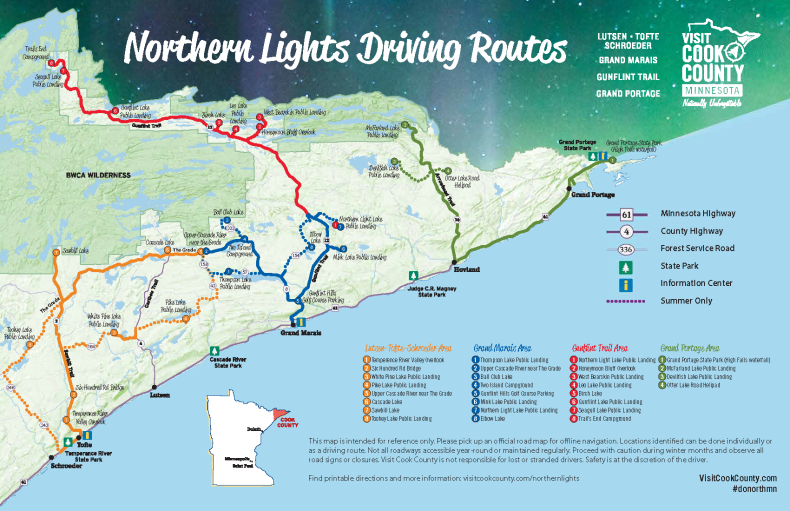 Google Map Routes for Viewing the Northern Lights in Cook County MN
To help you navigate to these locations, we've created some suggested routes using google maps for viewing the northern lights in Cook County, MN. Please be advised, in many of these locations, there will not be cell phone service. Downloading the maps and directions prior to embarking on your journey is critical. 
Important: when traveling in the winter - please be advised that not all of these roads are plowed. Refer to the Northern Lights PDF to identify which routes are on plowed roads. Some of these roads are snowmobile trails in the winter, which can look plowed at first but you'll quickly learn that they are not. When it doubt, turn around. Do not risk being stuck on a trail overnight in the winter. 
 Recommended Northern Lights Viewing Locations in the Lutsen, Tofte & Schroeder area
Recommended Northern Lights Viewing Locations on the
Gunflint Trail
Recommended Northern Lights Viewing Locations in the
Grand Marais area
Recommended Northern Lights Viewing Locations in the
Grand Portage area
For more tips and tricks on capturing the Northern Lights
Our Top 8 Tips for Seeing the Northern Lights in Minnesota
For many, seeing the northern lights is a once in a lifetime opportunity. It's a chance to experience the mystical, feel connected with something almost otherworldly and experience natural beauty at its utmost perfection. There is simply no comparison to seeing the northern lights with your own eyes.
Despite what you may have heard, you don't have to travel to the Arctic Circle to see the Aurora Borealis, or northern lights. You can find them bright and clear from the comforts of Cook County, Minnesota. Our unique, northern location and vast, dark skies make us one of the world's most perfect places to view northern lights. It's an experience you will never forget. In Cook County, you can enjoy the experience over and over again. Trust us. It never gets old.
Many of the communities in Cook County present a unique opportunity to view the northern lights. In the Lutsen/Tofte/Schroeder area, you'll find ideal viewing spots along Lake Superior as well as tucked deep into the wilderness. Along the Gunflint Trail, the shoreline of many accessible lakes in the Boundary Waters Canoe Area Wilderness, creates a dramatic scene for northern lights viewing. And in Grand Portage, the northern lights can be spotted dancing above High Falls, the tallest waterfall in the state of Minnesota. Follow your adventurous spirit north and discover the magnificence of the Aurora Borealis.
Don't miss the Dark Sky Festival
 Celebrate all things celestial with us in Cook County at our annual Dark Sky Festival, which takes place on the second weekend in December. This celebration of Cook County's world-class dark sky includes a lineup of presentations and activities. Make your plans to join us for this can't-miss event.
 
Use our top 8 tips to see the northern lights yourself
Check the forecast. The best viewing is during clear nights with little to no moonlight. That means Minnesota's long, dark winter nights present the perfect opportunity to hunt for the northern lights. You'll be amazed at how well your eyes adjust to the soft starlight, making finding your way easier than you might expect.
 
Stay up late. Night owls have the best chance of catching this incredible phenomenon. Best times to see them is often between 9 pm – 4 am, so coffee or tea may be just what you need. This is often the coldest part of the night in Minnesota, which leads us to tip #3...
 
Bundle up. We can't stress this enough. Northern Minnesota nights get chilly. If you're not used to it (or if you come unprepared) it could become dangerous. A warm jacket, hat and good pair of mittens or gloves are a must. We also recommend bringing blankets and a thermos of your favorite warm beverage to keep things cozy. If you make it to Cook County and realize you forgot an important piece of gear, never fear. Locally owned shops , or our outfitters and guides will have exactly what you need to stay warm all night long.
 
Look to the North. Grab a compass and find a spot with a good view to the north, someplace without hills or trees blocking your line of sight. Forgot your compass? The night sky has you covered. Did you know that you can use the Big Dipper, a prominent northern constellation, to find north? The two stars on the far edge of the big dipper's bowl point directly to Polaris, the North Star. Before you venture out, check out our list of favorite northern lights viewing areas in each Cook County community (above).
 
Turn off the lights. Artificial light will make it more difficult to see the northern lights and your eyes need time to adjust to the natural darkness. Once they do, you'll be able to see more than you ever thought possible. Be sure to turn off car lights, house lights, flashlights and keep your cell phone screen dim. Any exposure artificial light may disrupt your night vision and could jeopardize your moment to see the northern lights.   
 
Be patient. Part of the mystique of the northern lights is the absolute unpredictability of occurrence. Sometimes, you wait all night for the tiniest flicker of movement in the sky. Other nights, you're privy to a wondrous dancing display of intense color across the sky. Catching a glimpse of the northern lights takes dedication, patience and a good friend to keep you company.
 
Know what to look for. The northern lights appear in a broad spectrum of colors, so you never quite know what to expect. Most typically seen is a faint green-yellow or white-grey display that can almost be confused with bonfire smoke, or clouds. However, deep purples and vivid reds have also been known to regularly appear in Cook County.
 
Tell a friend. When venturing into the woods to find that perfect spot, be sure to let someone know where you are going and when you expect to return. Plus, letting someone else know the northern lights are out will increase your chance of a returned favor in the future. We also recommend scouting your location during the day to be sure all roads are open, accessible and safe.
With these 8 viewing tips in mind, you're ready and prepared to experience nature's most beautiful and intriguing nighttime show. We promise you won't be disappointed and the experience will live in your memories forever.
If you're looking to capture and share the moment with incredible photos, download our Dark Skies Photography Guide. It's chock full of tips and ideas from local and visiting photographers who have found success in capturing the northern lights by film.