FOR IMMEDIATE RELEASE 
Communities Members Rally Around Local Business Following Saturday Morning Fire While Supporting the Largest Athletic Event - the Lutsen99er
 
Lutsen, Minn. - June 25, 2023 - It was an emotional day in Cook County, Minnesota on Saturday as a beloved dining and entertainment establishment burned down and a 21-year-old local athlete won gold at the grueling Lutsen 99er mountain bike race. As over 1,800 racers and their families arrived at the starting line at Superior National Golf, volunteer fire departments rushed to the top of the mountain, less than 2 miles away, to Papa Charlie's at Lutsen Mountains to combat a fire that erupted early that morning.
The fire was reported at 6 a.m., with six different local volunteer fire departments responding. The fire was contained to one building and despite valiant efforts, Papa Charlie's, the largest music and entertainment venue in Cook County, was a total loss. In addition, all of Lutsen Mountains data servers and network communications were housed in Papa Charlie's and therefore communications will be limited until the equipment is replaced. The fire occurred during one of the community's largest events of the year, the Lutsen 99er, a weekend-long event featuring bike races for all ages and abilities. The main event, a 99-mile, Category 3 climb bike race, was able to proceed as scheduled at 7:30 am on Saturday, less than two hours following reports of the fire thanks to the rapid response by the local fire departments. 
"We in Cook County are absolutely devastated by this unexpected fire, and we're so thankful for the volunteers who were able to step in and help so quickly," said Linda Jurek, Visit Cook County Executive Director. "We're so glad that nobody was injured during the fire. Papa Charlie's is part of the beating heart of Cook County, and we're here to support Lutsen Mountains leadership as they evaluate the next steps."
Annually the Lutsen 99er draws thousands of people to Cook County. Volunteers are critical to the event's success with over 200 individuals who plan their summer around volunteering at this event,
many of whom also volunteer for the local fire departments and emergency management services. As the call for firefighters went out to fight the fire, calls were answered by the local community to step in to fill critical roles at the multiple aid stations at the event. 
Among the dozens of last-minute volunteers were several business owners who jumped in to help, including Sarena Crowley and Clair Nalezny (Cascade Vacation Rentals), Jeff Stoddard (Sawtooth Mountain Clinic) and Chris Homyak (Clearview Retail Partners, LLC). Crowley's husband, who had been scheduled to lead the Onion River aid station at the race, was called to the fire. Knowing the importance of the aid station, Crowley spearheaded the efforts to get the station staffed, set up and running throughout the entire race.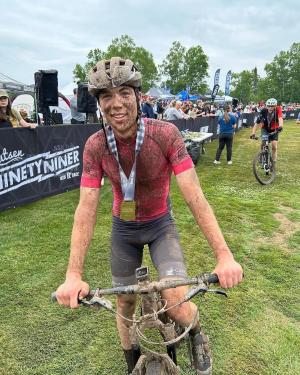 Despite these hurdles, the race was able to begin on time and over 1,800 riders left Superior National Golf in Lutsen, the home base for this year's event, to compete in one of four long-distance races including Will Surbaugh, a 21-year-old local, who won the 99er distance in a photo finish with a completion time of 05:02:46. Surbaugh, a Cook County High School graduate who grew up in Grand Marais and participated in his first Lutsen99er event at 12-years-old is now a professional rider competing in mountain and gravel bike racing competitions nationally. 
"Watching Will grow into a world-class athlete has been one of the most gratifying parts of building this event," said Mike Larson, former Lutsen Tofte Tourism Association board president and one of the founders of the Lutsen99er event. "The foundation of this event was to showcase the incredible terrain and beauty of this area and foster the growth of the biking community locally. This feels like a mission accomplished victory today."   
Cook County is one of Minnesota's largest counties by area, and its local community is one that emanates strength and perseverance. In Minnesota's more remote regions, having a community willing to come together to rally and support one another is essential to continued growth and success. 
Another local business directly affected by the fire at Papa Charlie's was Double D's catering which used the kitchen of Papa Charlie's to store and prep for events. For more details about Double D's, click here.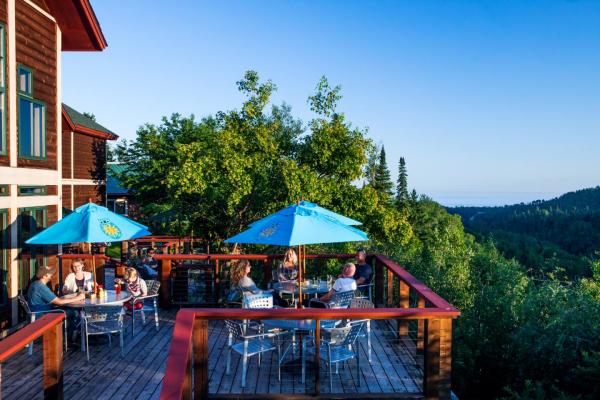 Papa Charlie's at Lutsen Mountains - a beloved local dining and entertainment venue was lost due to fire on Saturday, June 25, 2023.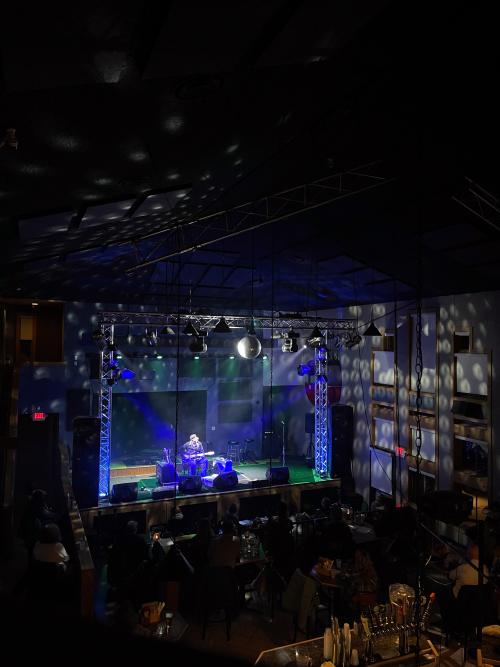 Erik Koskinen performs during the Songwriter Series at Papa Charlie's at Lutsen Mountains
Visit Cook County, Minnesota 
Visit Cook County encompasses the northeastern Minnesota communities of Lutsen, Tofte, Schroeder, Grand Marais, the Gunflint Trail and Grand Portage, commonly referred to as "the Arrowhead" and the "North Shore of Lake Superior."  Grand Marais, Minn., has earned several national accolades — most recently, it was named America's Best Small Lake Town by Travel & Leisure Magazine, USA Today's Best Midwestern Small Town, and Outside Magazine's The 16 Best Places to Live in the U.S. 2016. Rekindle your sense of adventure by exploring the Superior National Forest or paddling through the Boundary Waters Canoe Area Wilderness. Discover what makes the communities of Cook County, Minn. "Naturally Unforgettable." Connect on social media using #donorthmn, Twitter @CookCoVisitors, Facebook, or Instagram @donorthmn. Learn more at VisitCookCounty.com.
###
Questions or Interview Requests:

Kjersti Vick

Marketing & Public Relations Director

Linda Jurek

Executive Director
Resources & Images
2023 Lutsen99er race winner Will Surbaugh of Grand Marais
Some of the volunteers at the Onion River aid station included business leaders Sarena Crowley of Cascade Vacation Rentals, Jeff Stoddard of Sawtooth Mountain Clinic, Clair Nalezny of Cascade Vacation Rentals, and Chris Homyak of Clearview Retail Partners, LLC
Roll out at the start of the Lutsen99er at Superior National Golf in Lutsen, Minn. 
Papa Charlie's Deck
Erik Koskinen performs during the Songwriter Series at Papa Charlie's at Lutsen Mountains
Resources & Articles: