WELCOME, NEIGHBOURS!
To our neighbours to the north, we are beyond thrilled to welcome you to Cook County, Minnesota! Our border is just 40 beautiful miles down the road from Thunder Bay, and our unique communities of Grand Portage, Grand Marais, Gunflint Trail and Lutsen, Tofte and Schroeder are full of incredible outdoor adventures and entertainment opportunities waiting for you to experience.
Upcoming Events and Activities
Looking for even more reasons to come to Cook County? Join us for these upcoming events and activities.
Cook County Border Crossing Basics
Crossing the border has never been easier, even in a post-COVID world. The Grand Portage Pigeon River border crossing between Ontario and Minnesota is open 24/7/365. Canadian citizens should bring along one of the following valid WHTI-compliant documents:
Passport
NEXUS card
FAST card
EDL or EIC from a province or territory with a U.S.-approved EDL/EIC program
If you have questions or concerns about your crossing, please visit Canadian Border Services Agency website and the U.S. Customs and Border Protection website for more detail ahead of your visit.
After crossing, head south on the North Shore Scenic Drive into Grand Portage. If Grand Portage is not your final destination, you can make your way south on Highway 61 to reach Grand Marais, the Gunflint Trail, and Lutsen, Tofte and Schoeder. 
We are excited to welcome you back. See you soon!
Welcome to Adventures in Cook County, MN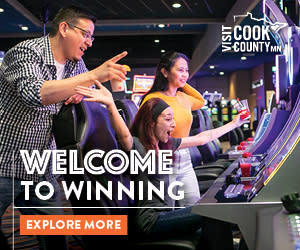 Welcome to Winning
The beautifully-designed, expertly-run Grand Portage Lodge and Casino facility offers modern gaming with over 425 slot machines, live entertainment, exquisite dining, comfortable lodging and deep connections to nature and culture.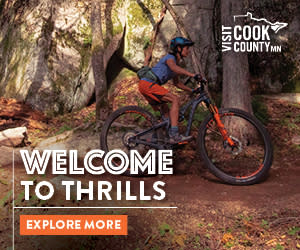 Welcome to Thrills
There's no shortage of high-adrenaline thrills in store for you in Cook County. Spend a few days exploring the vast network of bike trails in the Superior National Forest. Explore the beauty of spring in the Boundary Waters Canoe Area Wilderness.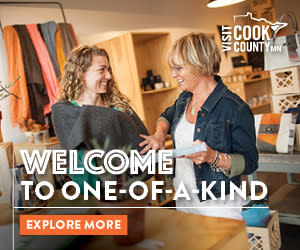 Welcome to One-of-a-Kind
Local art. Unique shops. Handcrafted food and beverages. There's no place quite like Cook County. It's truly one-of-a-kind and waiting for you to explore, experience and indulge.
Find Lodging in Cook County, MN
There's no shame in being specific! In Cook County, we aim to serve, and our variety of lodging options comes with an even wider range of…
There's something unique in every community of Cook County. Whatever you're looking for, you'll find the perfect place to stay…
Don't just visit Cook County. Experience it like a pro with the hottest deals in the state.