Northern Lights Driving Route in Cook County
Northern Lights Viewing Routes - Find the best places to view the aurora borealis in Cook County MN
Posted by Visit Cook County MN on 11/12/17 11:00 AM
Catching a glimpse of the northern lights is at the top of many "bucket lists" but the number one question we hear is "where are the best places to view the northern lights in Minnesota?" With the help of local photographer, Bryan Hansel, we have created a comprehensive list of some of the best places to view the northern lights in Cook County, MN.  
Please note: These maps are intended for reference only. Please pick up an official road map for offline navigation. Locations identified can be done individually or as a driving route. Not all roadways accessible year-round or maintained regularly. Proceed with caution during winter months and observe all road signs or closures. Visit Cook County is not responsible for lost or stranded drivers.  Safety is at the discretion of the driver.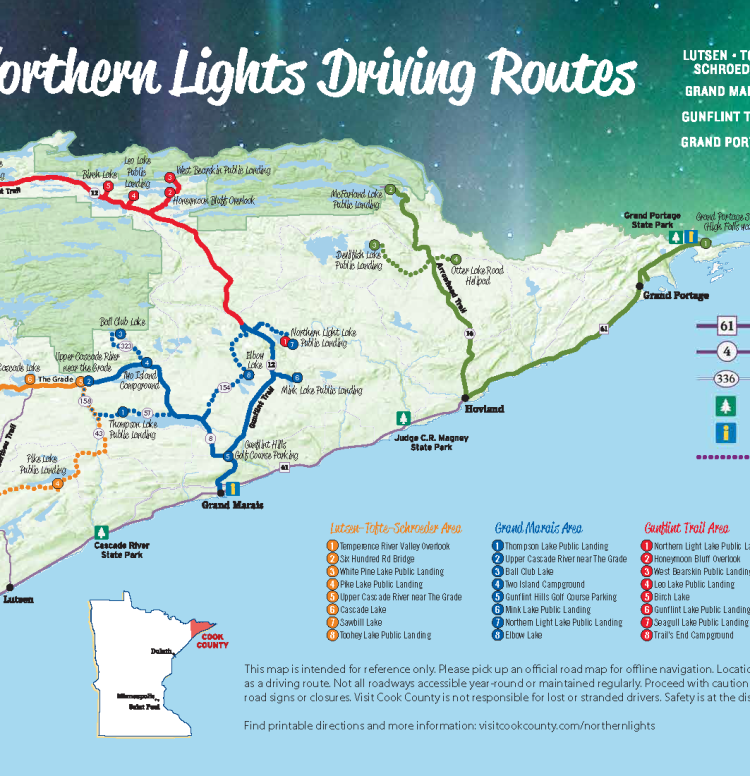 Google Map Routes for Viewing the Northern Lights in Cook County MN
To help you navigate to these locations, we've created some suggested routes using google maps for viewing the northern lights in Cook County, MN. Please be advised, in many of these locations, there will not be cell phone service. Downloading the maps and directions prior to embarking on your journey is critical. 
Important: when traveling in the winter - please be advised that not all of these roads are plowed. Refer to the Northern Lights PDF to identify which routes are on plowed roads. Some of these roads are snowmobile trails in the winter, which can look plowed at first but you'll quickly learn that they are not. When it doubt, turn around. Do not risk being stuck on a trail overnight in the winter.  
 Recommended Northern Lights Viewing Locations in the Lutsen, Tofte & Schroeder area
Recommended Northern Lights Viewing Locations on the Gunflint Trail
Recommended Northern Lights Viewing Locations in the Grand Marais area
Recommended Northern Lights Viewing Locations in the Grand Portage area
For more tips and tricks on capturing the Northern Lights
The quintessential summertime activity is picnicking in a scenic location. Fortunately for you, the North Shore of Lake Superior and Gunflint Trail…
One of the most popular autumn activities on the North Shore of Lake Superior is to go on a fall color drive. Cook County has dozens of routes that…
Moose are Minnesota's largest animal, weighing 800-900 pounds, or about as much as four or five full-grown deer. The word "moose" is…