Current Conditions in Cook County
From fall colors to trails, check the current conditions and make your plans.
For the most up-to-date information on current conditions or trail maps, please call (218) 387-2524.
Conditions Update 7/3/2023
We've received rain! Since June 22, we have had several days of rain reviving the forest and all of the flowers that were waiting to bloom. The US Forest Service announced it is rescinding its burning restrictions starting July 3, 2023. This means fires in the backcountry, boundary waters, and primitive sites are now allowed. Of course, caution is still advised as we head into the warmest and driest days of the year. Always double-check fire conditions before heading out on a trip, find current status here.  
Conditions Update 6/21/2023 
As of June 21, officials reported the Spice Lake Fire is now 100% contained and have decreased the emergency closure area. No businesses along the Gunflint Trail have closed due to the fire and are ready to help with trips and services. 
The emergency fire restrictions issued on June 14 remain in effect. For more information on the fire ban, please visit the MN DNR statewide fire danger and burning restrictions webpage.
Conditions Update 6/19/2023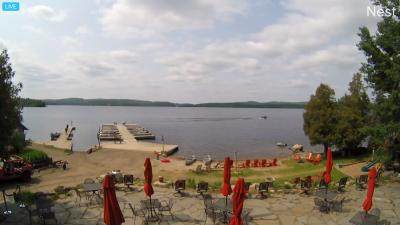 Are you curious what the conditions are like up north? Check out our collection of LIVE webcams! This is from 6/15/23 at 3:30pm at Gunflint Lodge and Outfitters. I'd say, it looks like a mighty fine day in the neighborhood!
There are a lot of questions about the impact of the active Spice Lake fire in the Boundary Waters Canoe Area Wilderness on businesses on the Gunflint Trail. As of today, the US Superior National Forest Service has announced the fire is nearly 80% contained! 
While a portion of the BWCAW will remain closed, the majority of the Boundary Waters Canoe Area Wilderness remain safe and open for business! And as you can see in this photo, the weather is lovely.

If you are planning a BWCAW trip, check your entry point and route to ensure you avoid the closed area and/or make an alternative route plan. As there is a fire ban in effect, you will need to pack a campstove and fuel.
Throughout the region, there is an open burning ban which means absolutely no fires are allowed in backcountry sites (BWCAW, Superior Hiking Trail, etc), rustic campgrounds, or outside of an established firepit in a managed area. While campfires are still allowed in established fire rings at homes, resorts, or managed facilities there may be property restrictions in place by the land owners/managers. Check with the property or management before starting a campfire and please be cautious and maintain control at all times. For more information on the fire ban, please visit the MN DNR statewide fire danger and burning restrictions webpage. 
Air quality in Northeastern Minnesota remains very good. For the current air quality report, click here. 

Information Center

Visitor Information Center
Check in to see what the weather is like and what is happening in Cook County daily by checking out our list of webcams in the region.
Winter snow conditions for cross-country skiing, snowmobiling, fat-tire biking and…
Lutsen and Tofte feature 153.2KMs of groomed cross-country ski trails on several…
Grand Marais has 52.9KM of groomed cross-country ski trails within minutes of…
Welcome to winter on the Gunflint Trail. Cross country skiing is one of the #1…