Picnicking in Cook County
Top Picnic Areas on Minnesota's North Shore and Gunflint Trail
The quintessential summertime activity is picnicking in a scenic location. Fortunately for you, the North Shore of Lake Superior and Gunflint Trail are chock full of incredible picnic spots! To help you narrow down the list, here are a few things you need to know to plan the ultimate picnic.  
A successful picnic is made up of a few main factors: location, food and company. You are already on the right track by selecting Cook County, MN as your destination, you've selected your traveling companions and with local restaurants offering complete menus for takeout, all you have to do is put it all together! 
Find your picnic style
There are many types of picnicking to enjoy. You can backpack into a scenic overlook, take a canoe out to a boundary waters campsite or drive up to a designated picnic area. The opportunities for adventure are endless!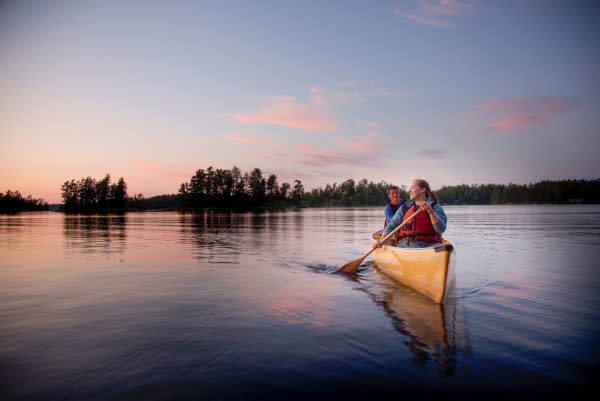 Adventure picnic. Paddling through the pristine lake of the boundary waters is not only beautiful but it also provides a great opportunity to potentially see wildlife and catch fish. Explore day trips by canoe or contact a local outfitter for a suggestion and canoe rental.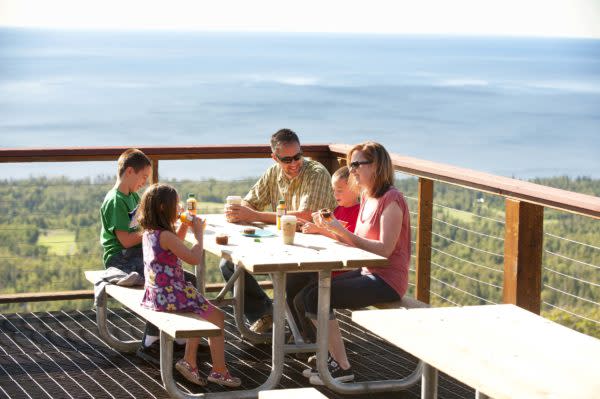 Mountaintop picnic. Pack your backpack full of goodies and pick a trail. There are over 400 miles of hiking trails to explore in Cook County and all of them offer countless locations for a perfect picnic. Explore hiking trails.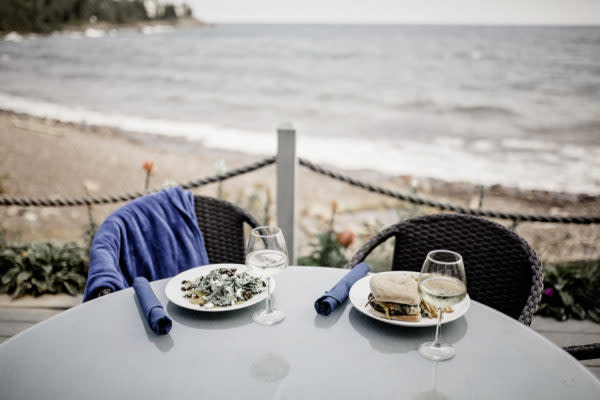 Dine al fresco. Having a picnic lunch isn't for everyone. If you would prefer to have some of the service features of a restaurant but still enjoy the outdoors, consider sitting outside on the patio or deck of one of these great restaurants.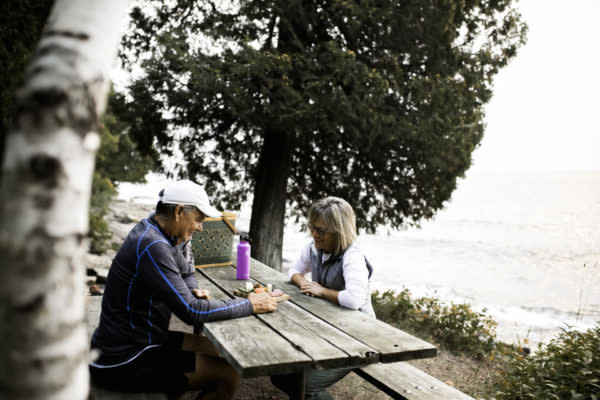 Drive up picnic. Every part of your day up north is an adventure. Why not treat yourself to a scenic picnic location that you can literally drive right up to. Especially when you have a toasty hot pizza from your favorite local restaurant waiting to be devoured! 
Choose your perfect picnic location
Here is a map of designated picnic areas in Cook County that you can drive or walk up to. 
Planning the perfect lunch
Setting out on a day's adventure with a pack full of food is exciting but you'll need a few things to make it successful. What do you plan on eating? In Cook County, Minnesota there are a plethora of restaurants that offer delicious meals to go. Treat yourself to a locally crafted meal, browse this list of restaurants that are providing food to go and their hours.  Of course, some of you may want to cook your own food. If grilling is a part of your perfect picnic plan, you'll want to make sure to pick a picnic site that offers a grill or fire grate. Check our picnic map above for picnic sites with grills/fire grates. 
Be sure to check the weather and be prepared in case the weather drastically changes. Remember, in the summertime, it is usually cooler by Lake Superior than it is inland, you'll want to be sure to dress accordingly and pack layers. Bringing any utensils, plates, napkins and other dining accouterments along as well. If you are picking up to-go food, it will most likely be provided to you.
Part of what makes picnicking up north such a fun activity is the gorgeous backdrop that surrounds the table. Be sure that no matter the location, you follow the Leave No Trace principles and take any trash or disposables with you when you are finished. By doing so, you'll help keep this area as clean and beautiful as you found it. 
COVID-19 considerations
Due to the covid-19 or coronavirus pandemic, Minnesota restaurants are only allowed to seat indoors starting June 10, 2020 at no more than 50% total capacity. Not all restaurants offer onsite outdoor seating with table service. Reservations may be required for table seating. It is recommended you contact the restaurant directly for information on their service features and hours during this time.
Find more Foodie Delights
Not only is Cook County MN drop dead beautiful, but it happens to be home to many delicious drive-worthy food destinations.
With the help of local photographer, Bryan Hansel, we have created a comprehensive list of some of the best places to view the northern lights in Cook…
When we say "getting here is half the fun," we mean it. There are so many things to see and do in Cook County, MN you'll want…
Moose are Minnesota's largest animal, weighing 800-900 pounds, or about as much as four or five full-grown deer. The word "moose" is…