Swimming in Cook County
Swimming Hot Spots - Best Places to Cool off in Cook County
Posted by Leif Birnbaum on 7/6/17 11:40 AM
It's getting to be that time of year! The best place to cool off from the summer heat is the water. This post will tell you the swimming hot spots around Cook County.
The Onion River Swimming Hole
The onion river swimming hole is a true gem. You can climb up the river or get there from the hiking trail. Simply park in the Ray Berglund Memorial Wayside rest right off Highway 61 between Lutsen and Tofte. Take the stairs up to the hiking trail and then snake your way down to the river from there. As long as the water is low, it's an easy river hike (water shoes recommended!). If the water is too high, you can get to the swimming hole from the hiking trail. It's about a half mile up and you'll know it when you find it. Fun Fact: The Onion River is the dividing line between Lutsen and Tofte!
Lutsen Resort Beach
Do you dare swim in Lake Superior? Come summer you will see many people swimming at the Lutsen Resort beach. With the warmer Poplar River flowing into the lake here, it's a (somewhat) more temperature friendly option. There is also a beautiful pebble beach and comfy adirondack chairs for those who don't want to swim. Bonus: If you're staying at the resort, then you can run up and use the hot tub before or after your swim!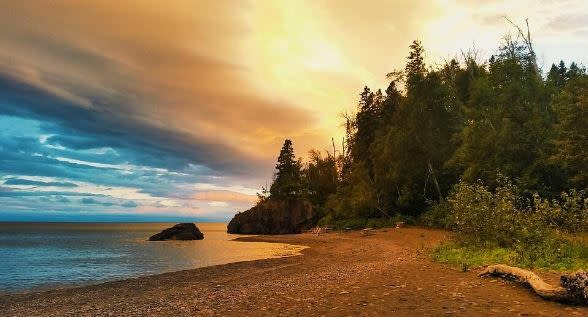 Mink Lake
A pleasant, shallow and warm lake not too far from Grand Marais is Mink Lake! At its deepest point, the lake is 15 feet deep, so it warms up quickly.  Also, it is near Kimball Lake, just off the Gunflint Trail, and about 14 miles from Grand Marais, on the Trout Lake Road (Forest Service Road 140.) There is a boat ramp and wide fishing dock and it has a lovely beach area, perfect for sunny water wading and small children (in life vests, of course). If you want to make it a weekend, a conveniently located U.S Forest Service campground is on the northeast lake shore area.
Seagull Lake Public Landing
There's nothing more refreshing than swimming in the untouched waters of the Boundary Waters Canoe Area Wilderness. Without too much effort, you can do that in Cook County. The Seagull Lake Public Landing has a wonderful beach for swimming and is also an entry point to the BWCAW. The landing is roughly 52 miles up the Gunflint Trail on the left side of the road.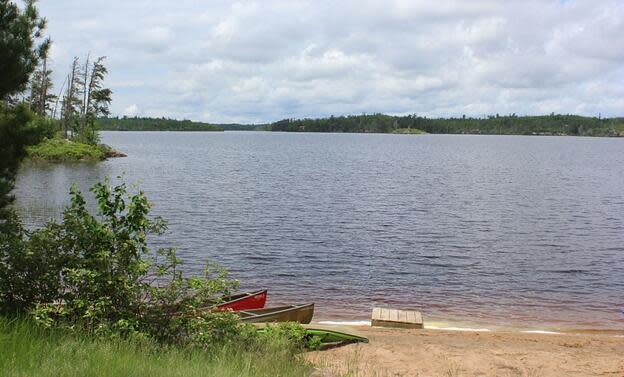 The East Bay in Grand Marais
The East Bay is an ideal swimming spot for those hot, late summer months. It's right in Downtown Grand Marais, accessible from the Coast Guard Parking Lot. It's a little chillier than in the harbor, but the water is clean and refreshing. This is also a great spot for paddle boarding and kayaking.