Northern Lights in Cook County
Cook County is the Best Place to View the Northern Lights in Minnesota (and the lower 48 states)
You don't have to travel to the Arctic Circle to see the Northern Lights, also known as the aurora borealis. Thanks to our northern location and vast, dark skies, we in Cook County, Minnesota are lucky enough to see them often.
The Top 8 Tips on How to See the Northern Lights in Minnesota
For many, catching a glimpse of this stunning natural phenomenon is a once in a lifetime opportunity. It's a chance to experience the mystical, feel connected with something almost otherworldly and experience natural beauty at its utmost perfection. There is simply no comparison to seeing the northern lights with your own eyes.
To help you create the best northern lights experience, we put together our top 8 tips on how to see the northern lights.
What is the Best Time of Year to View the Aurora Borealis?
They can appear year-round. For reasons not yet fully understood, the Northern Lights appear most frequently in the late fall and winter.
Hoping to Catch the Northern Lights Tonight? We recommend checking these forecasting websites:
While difficult to predict, there are a few websites that offer decent Northern Lights forecasting capabilities.
Suggested Northern Lights Forecasting Mobile Apps:
What is Cook County's KP Level (and what is a KP Level)?
You'll notice on all Northern Lights prediction sites reference KP levels. KP levels is a scale of numbers 0 -9 that will give you an approximation of where you'll need to go for a chance to see the auroras. To see them in our area, you'll be looking for a KP of 4 or higher.
What Causes the Aurora Borealis?
The Northern Lights are caused by the interaction of the solar wind – a stream of charged particles escaping the Sun – and our planet's magnetic field and atmosphere. Read more about what causes the aurora borealis here.
Other Dark Sky Phenomenons
In addition to the Northern Lights, other celestial events happen throughout the year. Annually occurring sometime between mid-July and mid-August is the Perseid meteor shower. November offers another chance when the Leonid show occurs. Fortunately, just by being in the great Northwoods your chances of catching a shooting star are infinitely increased.
Where can I view the Northern Lights in Minnesota?
Northern Lights Viewing Routes - Find the best places to view the aurora borealis in Cook County MN
Catching a glimpse of the northern lights is at the top of many "bucket lists" but the number one question we hear is "where are the best places to view the northern lights in Minnesota?" With the help of local photographer, Bryan Hansel, we have created a comprehensive list of some of the best places to view the northern lights in Cook County, MN.  

Please note: These maps are intended for reference only. Please pick up an official road map for offline navigation. Locations identified can be done individually or as a driving route. Not all roadways are accessible year-round or maintained regularly. Proceed with caution during winter months and observe all road signs or closures. Visit Cook County is not responsible for lost or stranded drivers.  Safety is at the discretion of the driver.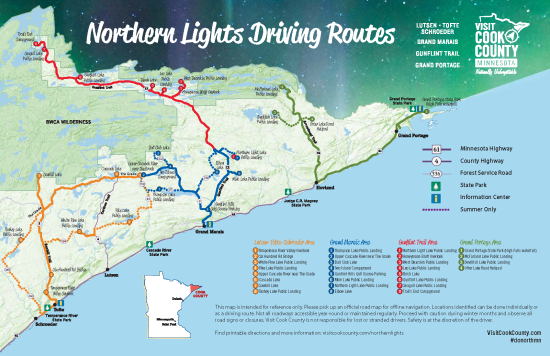 Google Map Routes for Viewing the Northern Lights in Cook County MN
To help you navigate to these locations, we've created some suggested routes using google maps for viewing the northern lights in Cook County, MN. Please be advised, in many of these locations, there will not be cell phone service. Downloading the maps and directions prior to embarking on your journey is critical. 
Important: when traveling in the winter - please be advised that not all of these roads are plowed. Refer to the Northern Lights PDF to identify which routes are on plowed roads. Some of these roads are snowmobile trails in the winter, which can look plowed at first but you'll quickly learn that they are not. When in doubt, turn around. Do not risk being stuck on a trail overnight in the winter.  
 Recommended Northern Lights Viewing Locations in the Lutsen, Tofte & Schroeder area
Recommended Northern Lights Viewing Locations on the Gunflint Trail
Recommended Northern Lights Viewing Locations in the Grand Marais area
Recommended Northern Lights Viewing Locations in the Grand Portage area
For more tips and tricks on capturing the Northern Lights
Capturing the northern lights on film is no easy task. Every year, explorers, adventurers and artists from around the world travel to Cook County to…