For immediate release

Grand Marais is Home To The First Public Floating Sauna in the U.S.
Sisu & Loyly Nordic Sauna launched a new floating sauna experience in September on Devil's Track Lake

Grand Marais, MN – September 22, 2023 - Grand Marais sauna entrepreneur Katie Usem of Sisu & Loyly Nordic Sauna announced on September 12th the arrival of a new floating sauna experience. After a few days of testing, they are now opening it to the public for use. 
"I've been thinking about the concept of a floating sauna since launching the flagship sauna on the East Bay of Grand Marais in 2021," said Katie Usem. "While saunas and floating saunas are very popular in Scandinavia - there are no public ones in the United States. I wanted to change that."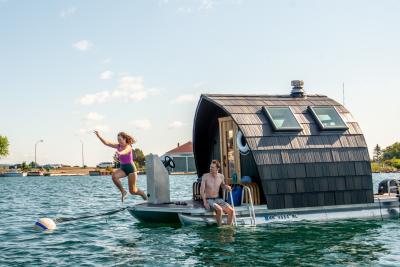 This new sauna was custom built by Timber Arched on a tritoon boat for increased stability with a 60-horsepower motor and is heated by a wood-fired Huum stove. Timber Arched also built the mobile sauna that Sisu & Loyly launched over the summer and has been available for private rental and community events. 
For the remainder of the fall season, the sauna will be docked and available for hourly rental at Skyport Lodge on Devil's Track Lake located 8 miles from downtown Grand Marais. Guests who sign up for a sauna session can also enjoy the Skyport grounds and utilize the attached restaurant and bar for both pre and post sauna refreshments. 
"In a small rural community, collaboration is important," said Rachelle Christianson of Skyport Lodge & Raven Rock Grill. "We are very excited to partner with Sisu & Loyly by offering our dock and facilities to sauna users." 
For this first season, the 50-minute sauna sessions are priced for groups of up to 6 at $159+tax and include limitless dunks into Devil's Track Lake. Guests will need to bring their own swimsuits, towels, water bottles, and other sauna amenities.  
Visit Cook County, Minnesota 
Visit Cook County encompasses the northeastern Minnesota communities of Lutsen, Tofte, Schroeder, Grand Marais, the Gunflint Trail and Grand Portage, commonly referred to as "the Arrowhead" and the "North Shore of Lake Superior."  Grand Marais, Minn., has earned several national accolades — most recently, it was named America's Best Small Lake Town by Travel & Leisure Magazine, USA Today's Best Midwestern Small Town, and Outside Magazine's The 16 Best Places to Live in the U.S. 2016. Rekindle your sense of adventure by exploring the Superior National Forest or paddling through the Boundary Waters Canoe Area Wilderness. Discover what makes the communities of Cook County, Minn. "Naturally Unforgettable." Connect on social media using #donorthmn, Twitter @CookCoVisitors, Facebook, or Instagram @donorthmn. Learn more at VisitCookCounty.com.
###
For interviews and more information:

Kjersti Vick

Marketing & Public Relations Director