For Immediate Release
Lutsen Mountains to Purchase Superior Ridge Resort
Bruce and Sheryl Martinson selling family resort founded 30 years ago
Lutsen, MN, (January 16, 2023) - Lutsen Mountains has agreed to purchase Superior Ridge Resort from long-time owner-operators Bruce and Sheryl Martinson and minority owners John and Sherry Murphy.  The Martinson's will continue to operate the resort through the winter with transition to operation by Lutsen Mountains in May.
Bruce and Sheryl Martinson, along with minority owners John and Sherry Murphy, founded the Resort in 1993.  Soon after purchasing the land from long-time Tofte residents Jerry and Diane Loh, Bruce and Sheryl built six condo units and an owners' residence where they raised their three children, Ryan, Kyle, and Alyssa.  Over the years, further buildings housing eight motel units, a studio apartment, a meeting room, sauna, and a ski wax room were added.  
"We have devoted much of our lives building and operating Superior Ridge and many of our fondest memories of raising our three children revolve around the Resort", stated Bruce.  "Sheryl and I are delighted too that the Resort is being purchased by a community-based business.  We have worked closely with Lutsen Mountains over the years and this partnership has been part of the success of our lodging operation.  Knowing Lutsen Mountains, we are confident that Superior Ridge will be maintained to a high standard." 
Besides running the Resort and raising their family, Bruce and Sheryl have been very active in the community, contributing time to their Church and community organizations.  An accomplished preschool teacher at Birch Grove School, Sheryl also worked as a care attendant and home schooled their children during their young years.  Bruce held many leadership roles including on the Schroeder Town Council, Lutsen-Tofte-Schroeder Tourism Association, Gitchi-Gami Trail Board and as a long-time Cook County Commissioner.
"We are thrilled that Superior Ridge Resort will be joining our family of resorts," stated Charles Skinner, President and Owner of Lutsen Mountains.  "Bruce and Sheryl have done an amazing job building their resort over the decades while being inspirational leaders in our community.  Bruce and Sheryl are 'salt of the earth' type people who we feel privileged to have worked with and are honored to be entrusted to continue their legacy at Superior Ridge."
Lutsen Mountains plans to continue to employ existing employees.  "Bruce and Sheryl have told us great things about their staff, and we look forward to working with them as we embark on a new chapter at Superior Ridge, added Jim Vick, General Manager of Lutsen Mountains.
"We're committed to providing Midwest families with great destinations close to home and Superior Ridge will add a lodging offering directly on Highway 61 at the gateway to Cook County from the South", added Charlotte Skinner, Chief of Staff at Lutsen Mountains family of ski areas, Midwest Family Ski Resorts.  
The transaction includes all the assets of Superior Ridge including nearly 12 acres of private land. The closing will occur in May. While the final sales price was not announced, the resort was listed for sale for $2.3 million. 

For Media Inquiries:
Jim Vick, General Manager
Lutsen Mountains
jim@lutsen.com
(218) 406-1300
or
Charlotte Skinner
Chief of Staff
Midwest Family Ski Resorts
charlotte@midwestfamilyskiresorts.com
(218) 940-5590
####
About Lutsen Mountains. Founded in 1948, Lutsen Mountains was the first ski area in Minnesota and is the State's largest ski area with the highest vertical and the most trails spread. Straddling four peaks of the ancient Sawtooth Mountain range, the ski area boasts unique 180-degree blue water views of the World's largest lake, Lake Superior. Lutsen's management team is led by 35-year Lutsen veteran, General Manager Jim Vick.

About Midwest Family Ski Resorts. Midwest Family Ski Resorts owns Lutsen Mountains, Granite Peak and Snowriver Mountain Resort. Granite Peak is Wisconsin's oldest ski area and its largest with three high-speed lifts.  Snowriver combines two ski areas formerly called "Indianhead" and "Blackjack", was the first ski area established in the Upper Peninsula's "big snow country", so-named due to 20-feet of annual snowfall, and is the largest family ski destination in the UP.  

About the Skinner Family. The Skinner Family began operating ski areas in 1962 when Charlie Skinner, Sr. founded "Sugar Hills" in Grand Rapids, Minnesota.  Charlie purchased Lutsen in 1980.  Charlie's son, Charles, operated Lutsen with brother-in-law Thomas Rider until Tom's retirement in 2022. Charles purchased Granite Peak in 2000 and Snowriver in 2022.  The three resorts strive to offer the highest level of healthy outdoor recreation and other destination experiences in the Midwest and contribute to the economic well-being of the communities where they are located.  Today, Charles and his daughter Charlotte Skinner own and operate the three resorts.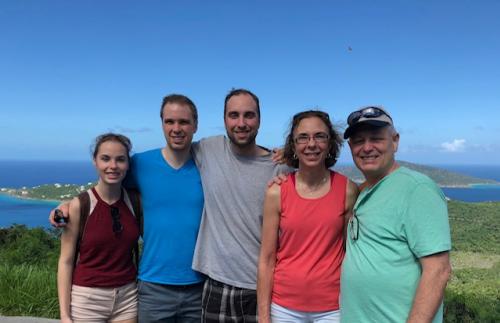 The Martinson family - after 30 years of ownership, the Martinson family is selling Superior Ridge Resort.