The annual Minnesota Walleye Fishing opener is on Saturday, May 14, 2022! This long and snowy winter is sure to supercharge spring walleye activity. However, due to a late ice-out, and in some cases still ice on the lake, it will be important to be cautious this fishing opener. 
While the surface may not visibly have ice, there may still be ice hidden underwater that can create issues with motors or boats it collides with. Lakes that still have ice should be approached with caution. The ice is no longer stable enough to hold the weight of a person and could strand a boat that tries to cross. With that said, some lakes are now open and ready for adventuring - with others not far behind! Additionally, the Boundary Waters Canoe Area Wilderness is open for overnight and day trips. Contact a local outfitter or Forest Service office for status updates on your chosen entry point or guidance on an alternate route. 
Be sure to check with the US Forest Service and Cook County on road closures before venturing out to your favorite less-traveled lake. Some roadways are still partially snow-covered or may have running water crossing them. Conditions are changing daily, so be sure to check back often. 
Many campgrounds are officially open for the season with more to open as the season continues! The Grand Marais Rec Park is open for the season as are the state park campgrounds at Temperance, Cascade, and Judge C.R. Magney. Additionally, privately-owned campgrounds like Lamb's Resort (who are celebrating 100 years of operation this year), Grand Portage Lodge, and Golden Eagle Lodge & Campground will be open this weekend. Additionally,  Gunflint Pines, Hungry Jack Lodge & Campground, Hungry Hippie Hostel & Campground (opens May 16), and Nor'Wester Lodge & Outfitters will all be opening soon as well.
U.S. Superior National Forest Service announced on 5/12/22 an update on their managed campgrounds.  Most campgrounds on the Tofte and Gunflint Districts are closed until May 17, with the following exceptions: 
Now open - Iron Lake Campground 
Now open - Trails End Campground is open except for sites 29, 30, 31, 32, 33.  Seagull Lake Nature Trail and the Seagull Lake Canoe Launch are also closed. Boaters/ canoers should plan to put in at Blankenburg Landing 
Open May 13 - Sawbill Lake, Crescent Lake and Temperance River campgrounds  
Open May 14 - Flour Lake Campground  
 
Of course, there are plenty of cabins and resorts that are open with availability this spring for those looking to getaway. 
Hiking trails are open, however, while hiking if you come across snowy or muddy areas - it is recommended to turn around to minimize any damage to the trail and avoid injury. Trails on the north side of a mountain are the most likely to still have a measurable amount of snow and should be avoided. The Superior Hiking Trail has some suggestions for Hiking Best Practices during spring melt that are worth a read. The single-track mountain bike trails at Britton Peak and Pincushion remain closed at this time.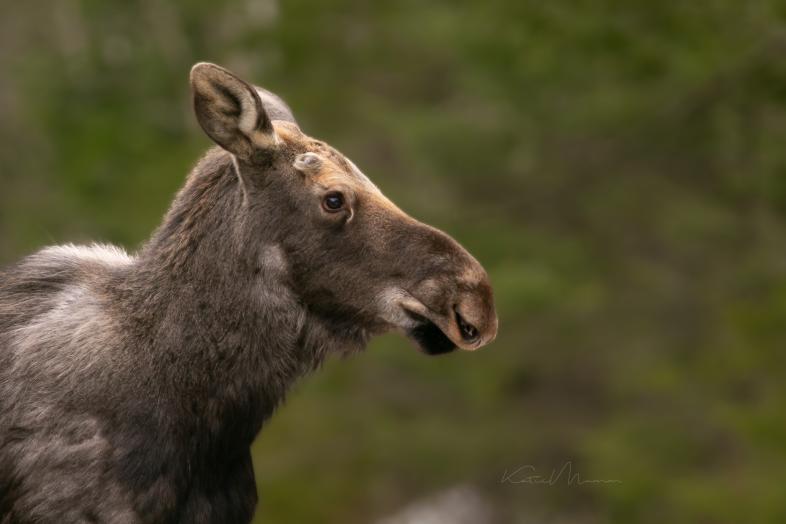 Rumor has it that yearling moose are now being spotted alone which means…baby moose are coming soon! Remember, we are just visitors in the wilderness and this land is home to the wild creatures of the Superior National Forest. Respect their habitat and boundaries and drive carefully on the roadways, especially in known wildlife areas like the Gunflint Trail. (photo by Katie Mumm wildlife photographer) 
We may have had to wait for spring a little longer this year, but it is officially here. We hope you'll come enjoy it with us! 
Our Information Center team is keeping track of trail conditions, campground opening/closures, restaurant and shopping hours, and lodging availability. For the most up-to-date information, give them a call at (218) 387-2524.