Enjoy the fine art of Hygge at its finest. Through the month of February, you can cozy up by a roaring fire with your nearest and dearest at some of the most spectacular fireplaces in the region. Take the Cook County Fireplace Tour this February and discover the best winter vacations.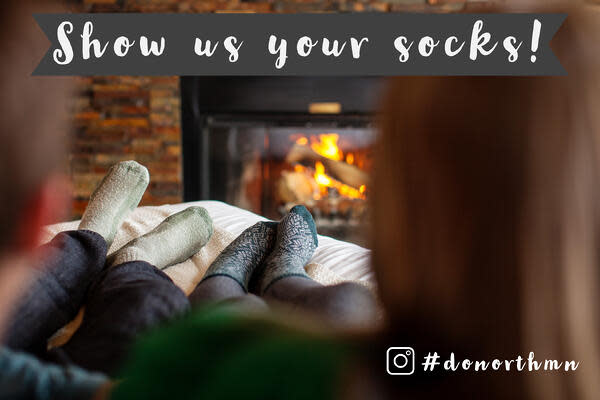 Hygge Fireplace Tour Dates: February 1 - 28, 2023
PARTICIPATING LOCATIONS:
 
GRAND MARAIS
🔥 Aspen Lodge - features an indoor gas fireplace in the lobby of the hotel.  Come sit and enjoy a cup of coffee, tea or hot cocoa while you're in Grand Marais. 
Hours: 7 a.m. - 10 p.m. seven days a week
Location: 208 E. Hwy 61, Grand Marais, MN
🔥 Best Western Plus Superior Inn - features one indoor gas fireplace in the Great Room lobby area, across from our registration area.  Enjoy a cozy sofa sitting area by the fireplace, and there are tables perfect for a game of cards. The Cove Lobby Bar and Bistro offers beer, wine and food items to purchase for registered guests.  During the 2022 Fireplace Tour we invite the public to also come experience this lovely, cozy area, while enjoying an appetizer, drink, salad, or flatbread pizza purchased from our Lobby bar, The Cove.
The Cove Lobby Bar Hours: 5-9 p.m.
Location: 108 E Hwy 61, Grand Marais, MN
🔥 Grand Marais Recreation Area - features one outdoor elevated custom built metal fireplace under a covered pavilion sitting harborside. Build your own fire to roast marshmallows over as the sun sets over the Grand Marais Harbor. 
Hours: Fireplace pavilion is open 24 hours
Location: Office located at 114 S. 8th Ave. W., Grand Marais, MN, fireplace down the road on harborside from office.
🔥 Hungry Hippie Tacos - features an indoor fireplace to stay cozy along with delicious eats + drinks. 
Hours: 11 a.m. - 8 p.m. Wednesday-Saturday
Location: 15 W Hwy 61, Grand Marais, MN 
🔥 Joy and Company - welcomes you to Hygge - to cozy up with us on cold winter days by our centerpiece fireplace decorated for the season. We invite you to come cozy up by the fire with a good book from our antiques section or to sit down to color and relax at our art counter and take a moment to just be warm and comfortable on a long winter day. February is for warmth and just being content. Hope to see you soon. Warm drinks available & pets welcome.
Hours: 10 a.m. - 5 p.m. (closed Sunday and Mondays) 
Location: 16 1st Ave. W., Grand Marais, MN
🔥 Raven Rock Grill at Skyport Lodge -  features two fireplaces, one wood burning fireplace at the bar, and a propane fireplace in the dining room. 
Hours: 11 a.m. - 3 p.m. Monday-Tuesday; 11 a.m. - 9 p.m. Wednesday-Saturday; 11 a.m.- 8 p.m. Sunday *Limited menu Mon-Thurs & late night bar hours on weekends.
Location: 205 Fireweed Lane, Grand Marais, MN
🔥 Sivertson Gallery  - features an indoor fireplace surrounded by local and regional artwork.
Hours: 10 a.m. – 5 p.m. Monday – Saturday; 10 a.m. - 4 p.m. Sunday
Location: 14 West Wisconsin Street, Grand Marais, MN
🔥 Voyageur Brewing Company - features a large split rock fireplace in the taproom. Warm by the fire and watch Lake Superior while enjoying a local craft beer with a menu to pair with your adventure.
Hours: 11:30 a.m. - 8 p.m. Sunday-Wednesday; 11:30 a.m. - 10 p.m. Thursday-Saturday (kitchen closes at 9 p.m.); 
Location: 233 W. Hwy 61, Grand Marais, MN
 
GRAND PORTAGE
🔥 Grand Portage Lodge & Casino - features a large stone fireplace with several beautifully hand carved wooden sculptures by a local member of the Grand Portage Band of Lake Superior Chippewa. Full service casino with easy access to local snowmobile trails.
Hours: 24 hours a day
Location: 70 Casino Dr., Grand Portage, MN
🔥 Grand Portage Nationals Monument's Heritage Center - As you walk into the Heritage Center, you will see the tallest fireplace in the county. The trim in the Heritage Center and the fireplaces and foundations of reconstructed buildings in the historic depot are all built from this stone. The North West Company also used it in the original depot completed in 1789. Sit by the fire, watch a film, check out the exhibits and take a warm rest from winter activities.
Hours: 8:30 a.m. - 4:30 p.m. Monday-Saturday (Closed Presidents' Day)
Location: 170 Mile Creed Rd., Grand Portage, MN 
GUNFLINT TRAIL
🔥 Big Bear Lodge - Come warm up by the massive 25ft wood burning fireplace located in the center of the beautiful, white cedar log lodge.  Enjoy homemade artisan pizza and drinks while you sit by the fire.
Hours: 3-8 p.m. Monday-Friday; 11 a.m. - 8 p.m. Saturday & Sunday.
Location: 7969 Northwoods Loop, Grand Marais, MN
🔥 Borderland Lodge - This winter Borderland Lodge is opening up our previously guest-only breakfast to neighbors and visitors on the Trail! From 8-10 a.m. on Wednesdays-Sundays, you can enjoy Borderland's special Northwoods continental-style breakfast. Sit by the historic 100-year-old fireplace and enjoy fresh baked goods, hot entrees made to order, and bottomless coffee. Space is cozy, so reservations are required. Learn more at: www.borderlandlodge.com/breakfast
Hours: 8-10 a.m. Wednesday-Sunday *Reservations required for breakfast.
Location: 196 North Gunflint Lake R, Grand Marais, MN 
🔥 Golden Eagle Lodge - features a handmade rock hearth fireplace in the center of this cozy lodge. A hand hewn mantle frames this wood burning fireplace and showcases loads of craftsmen touches. Warm up after enjoying a ski on the Central Gunflint Trail System. Also features a 1.5KM of lighted ski trails for after dark skiing every day of the week. Golden Eagle Lodge also offers an outdoor fire pit, open 24/7 with wood and seating provided.
Hours: 8 a.m. - 5 p.m. Monday-Thursday; 8 a.m. - 6 p.m. Friday-Sunday.
Location: 468 Clearwater Rd., Grand Marais, MN
🔥 Gunflint Lodge & Outfitters - features two stone fireplaces. One an original lodge fireplace made from local Gunflint Rock derived from one of the world's oldest and largest meteorite impact events. The second, from split granite. Both located in the main lodge where full dining and beverage service is available. Access to the Upper Gunflint Ski Trail System and Snowmobile Trail is outside the doorstep. 
Hours: 8 a.m. - 8 p.m. daily
Location: 143 S. Gunflint Lake Rd., Grand Marais, MN
LUTSEN
🔥 Caribou Highlands Lodge - features a massive two story stone fireplace that features a gas fireplace in the lower level and wood fired in the main lobby level. With food and beverage service available in the lower level restaurant, and adjacent to Lutsen Mountains Ski Hill - the opportunity to warm up is abundant! 
Hours: 8 a.m. - 9 p.m. seven days a week
Location: 371 Ski Hill Rd, Lutsen, MN
🔥 Cascade Lodge Restaurant & Pub - features an original stone 1947 fireplace that was recently converted to gas and functioning for the first time in 16 years. With a full service restaurant and bar, and a daily happy hour it is sure to be a cozy spot to warm up after a day of adventure. 
Hours: 8 a.m. - 8 p.m. seven days a week
Location: 3719 Hwy 61, Lutsen, MN
🔥 Lutsen Resort - The historic Lutsen Lodge features an iconic wood-burning stone fireplace that compliments some of the best Lake Superior views. There is plenty of comfy seating to enjoy what the Fireside Lounge's Fireside Menu has to offer. The most decadent experience known as the Fireside Hot Chocolate: imported Belgium chocolate, sweet cream, hand-crafted marshmallow, and an artisan chocolate lattice. Handcrafted cocktails like our Swedish Glogg, Alpine Aviation, and Blush Blizzard Sangria are available to warm your spirits. Also available are sharable boards such as a Wisconsin Cheese Board, Sweet or Savory Popcorn Boards, Cast Iron Roasted Hazelnuts that are all pairable with glasses of wine from a signature selection. The Fireside Lounge is a perfect atmosphere where you can cozy up after a long day of skiing, snowshoeing, or snowmobiling.
Hours: 4-9 p.m. daily fireside menu
Location: 5700 W Hwy 61, Lutsen, MN
🔥 North Shore Winery - features an outdoor firepit with locally made metal sculptures at the center. Enjoy a glass of locally made wine, cider or mulled wine beside a roaring fire.
Hours: 12:30-6:30 p.m. Monday, Tuesday, Friday and Saturday | 2:30-8 p.m. Thursday (Date Night with Live Music in the evenings) | 11-6 p.m. Sunday. 
Location: 202 Ski Hill Rd, Lutsen, MN
As you can see, each fireplace has a unique design and hygge experience that could only be found in the heart of the north. Stay warm this winter and experience them all! Be sure to share your fireplace pictures with us on Facebook, Twitter and Instagram. 
 
Start planning your trip by downloading our winter packing list.